Adding an Offer aka a Deal
Deals or Offers on our site are considered "products" on the backend. Click here to add a product.
Before adding your first product, let's get familiar with how product categories, tags, and attributes work.
Product Categories
Product categories and tags work in much the same way as normal categories and tags you have when writing posts in WordPress. They can be created, edited, and selected at any time. This can be done when you first create a product or come back and edit it or the category/tag specifically.
Attributes
These can be added per product, or you can set up global attributes for the entire store to use (e.g., in layered navigation).
To learn more, see: Managing Product Categories, Tags and Attributes
Product Types
With attributes and categories set up and stock management configured, we can begin adding products. When adding a product, the first thing to decide is what type of product it is.
Adding a simple product
Adding a Simple product is similar to writing a post in WordPress.
Go to WooCommerce > Products > Add Product. You then have a familiar interface and should immediately feel at home.
Enter a product Title and Description.
Go to the Product Data panel, and select downloadable (digital) or virtual (service) if applicable.
Note: Virtual products don't require shipping — an order with virtual products won't calculate shipping costs.
Product data
The Product Data meta box is where the majority of important data is added for your products.

General section
SKU – Stock keep unit (SKU) tracks products. Must be unique and should be formatted so it does not match any post IDs. For example, post IDs are numbers so a SKU could be WS01. That could stand for WooShirt 01.
Price

Regular Price – Item's normal/regular price.

Sale Price – Item's discounted price that can then be scheduled for certain date ranges. The sale expires at 11:59pm of the specified end date.
Inventory section
The inventory section allows you to manage stock for the product individually and define whether to allow back orders and more. It enables you to sell products and allow customers to add them to the cart to buy.
Enable Stock Management must be selected in Products Inventory Settings; otherwise, only the 'Stock status' option is visible in the Product Data Inventory box.
Options when stock management at product level is disabled. You are responsible for updating the Stock Status.
Options when stock management at product level is enabled.
Enter the Stock Quantity, and WooCommerce auto-manages inventory and auto-updatesStock Status as Stock, Out of Stock or On Backorder.
Select whether to Allow Backorders.
Low stock threshold – Enter a number upon which you are notified.
Tick the Sold Individually box to limit the product to one per order.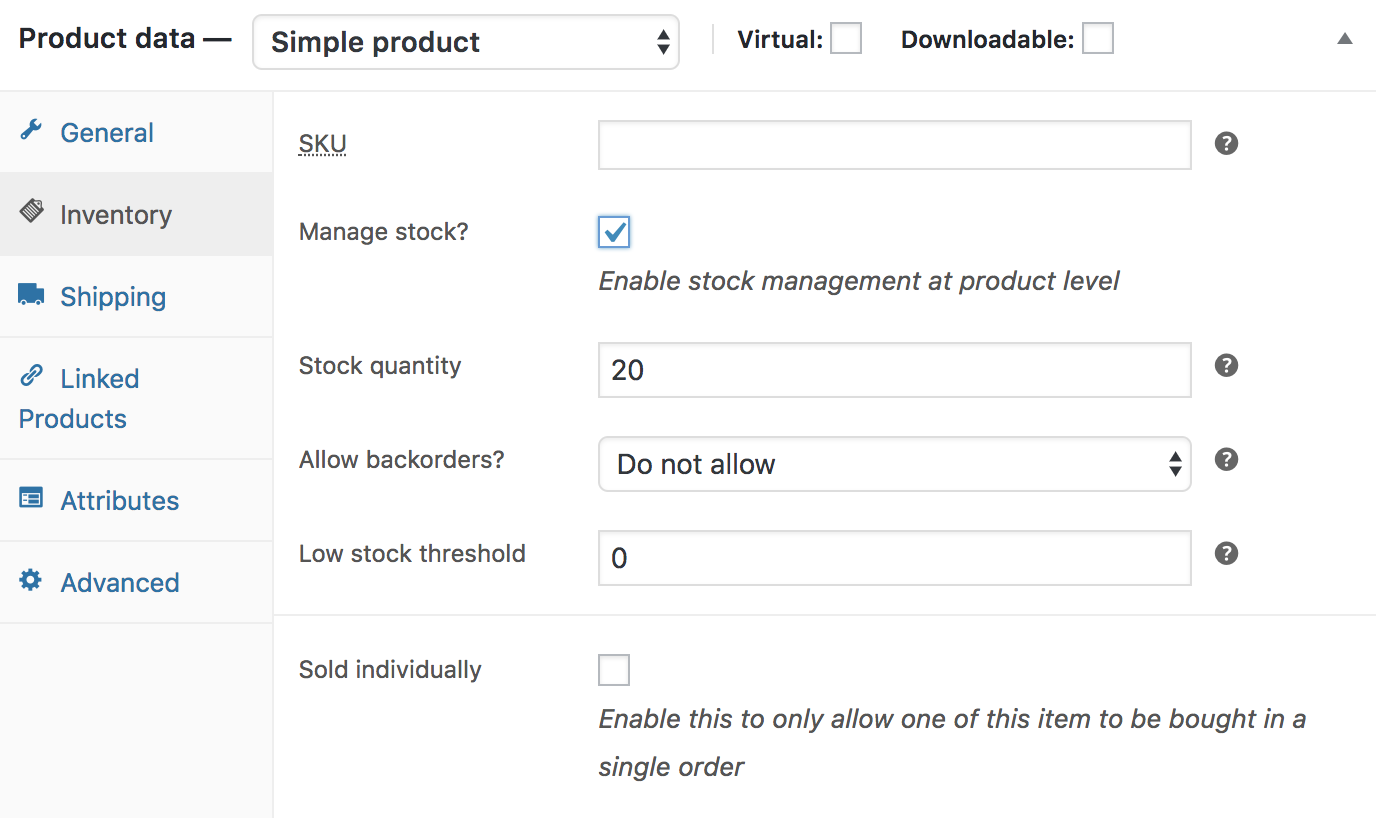 Shipping section
Weight – Weight of the item.
Dimensions – Length, width and height for the item.
Shipping Class – Shipping classes are used by certain shipping methods to group similar products.

Linked Products section
Using up-sells and cross-sells, you can cross promote your products. They can be added by searching for a particular product and selecting the product from the dropdown list:

After adding, they are listed in the input field:

Up-sells are displayed on the product details page. These are products that you may wish to encourage users to upgrade, based on the product they are currently viewing. For example, if the user is viewing the coffee product listing page, you may want to display tea kettles on that same page as an up-sell.